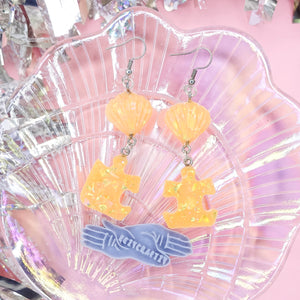 Ancestors Sample Sale collection pieces are one of a kind and might contain surface imperfections that will be highlighted in pictures/ description, please purchase only if you are comfortable with the imperfections.
Hypoallergenic Fish Hook
Seashell approx 2cm across
Approx 5.5cm long
Surface imperfections at the back of the pieces
//
Please note that each pieces are handmade individually. Due to the handmade nature of the products on Eezycraftzy, items colour may vary slightly from photos and each pieces contain their own personality. Due to the nature of handmade, thank you for embracing the slight differences/ imperfections. Handmade items are unique in its own ways, just like you.

//
Please handle these babies with care. Do try to avoid direct contact with water, perfumes, and cleaning products. We recommend you to hang the earring up or store them in the individual handmade pouch provided when you're not wearing them.